Por qué un 'hipster' debería flipar con Dire Straits
¿Blandos? No. ¿Comerciales? Tampoco. Mientras que Mark Knopfler está de gira en España evocamos la grandeza de su exgrupo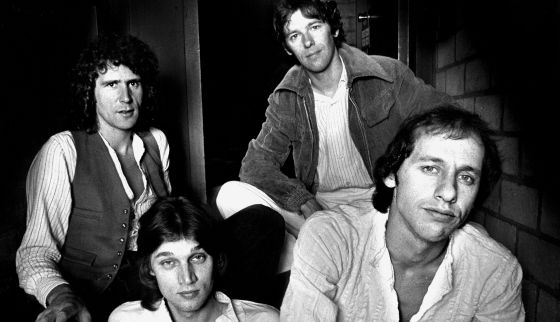 verdad el tiempo pone a cada uno en su sitio? En lo que a pop y rock se refiere, cabría discrepar: Dire Straits, un grupo que en los ochenta levantaba las pasiones más exacerbadas y parecía destinado a la más elevada canonización, hoy es un claro ejemplo del significado de anticool (que no molan, vamos). Cualquier despistado que ose elogiarlo en público se expone a un raudo sopapo de desaprobación: hay que ser viejuno, estar fuera de onda o, simplemente, tener un buen gusto a prueba de bomba para defender las bondades de este y otros grupos de los setenta y ochenta.
¿Por qué? Vale, la negación de lo inmediatamente anterior es intrínseca al rock, pero, en perspectiva, Dire Straits fue una banda solvente y divertida, liderada por un tipo que se las ingeniaba paracantar como Bob Dylan y tocar la guitarra como los dioses, con un sonido ajeno a las modas y un don especial para arrastrar a las masas. Prejuicios aparte, Dire Straits podrían gustar a cualquiera, incluso a los modernos más recalcitrantes.
Mark casi fue 'punk'
El sonido de su concierto en el Calderón era tan brutal que vecinos asustados bloquearon las centralitas de los bomberos, que llamaron al Instituto Nacional de Meteorología por si era cosa de un terremoto
Si Mark Knopfler hubiera nacido un poco antes (vino al mundo en Glasgow, Escocia, en 1949), habría sido punk. De hecho, si no se subió al carro de esa música rabiosa y desastrada fue porque "era dos o tres años mayor para todo aquello", según contó el pasado mayo a El País Semanal. Cuando en 1978 Dire Straits publicaron su primer disco (titulado igual que el grupo), este británico de padre húngaro tenía ya 29 años y la cabeza lo suficientemente centrada (y despoblada) para darse cuenta de que, a diferencia de los chavales delpunk, él sabía tocar.
Pese a todo, a Dire Straits no se les puede tildar de blandos. De hecho, el primer periodista que los puso en la radio española fue Vicente Mariscal Romero, eminencia en el rock duro. Hay más. En algunas viviendas aledañas al estadio Vicente Calderón aún resuenan los ecos de su atronador concierto en Madrid en 1992. "Esto es un terremoto", declaró una vecina a El País. "Se empezó a mover el agua de las copas y empezamos a notar un vaivén como si estuviéramos en un barco", se quejó otra, abstemia. Según el mismo artículo, docenas de vecinos asustados bloquearon las centralitas de bomberos y protección civil, que a su vez llamaron al Instituto Nacional de Meteorología por si era cosa de un terremoto. Ni los Black Keys, oiga.
Al margen de moda
Cuando aparecieron en el mapa, Dire Straits podrían haber sido tildados de anticuados: no eran punks, ni tampoco hacían música electrónica. La forma de tocar la guitarra de Mark —pellizcando las cuerdas con tres dedos en lugar de usando una púa— remitía a los intérpretes del trasnochado banjo. Obviamente, Dire Straits evolucionaron: el efecto de la guitarra en la archifamosa Money for nothing (1985), que Knopfler compuso con Sting, fue el no va más.
Pero recordemos que eran los ochenta: Madonna, hombreras y cajas de ritmos. Ellos no claudicaron, y detalles como esos son los que hacen que uno pueda escuchar los discos de Dire Straits sin sonrojarse: perfectamente atemporales, han soportado estupendamente el paso de los años. Por cierto, el característico estilismo de Mark Knopfler (cinta en el pelo y muñequeras) también estaba al margen de la moda.
Tienen un toque 'cultureta'
Si Radiohead hubiera grabado una canción que habla de una escritora misteriosa y otra de Romeo y Julieta, muchos no cabrían en sí de gozo. Pero fueron Dire Straits quienes se tomaron esa libertad. Mark Knopfer compuso Lady writer (1979) después de ver por televisión una entrevista a una escritora cuyo nombre siempre se ha cuidado mucho de revelar. Al año siguiente publicó Romeo and Juliet, que utilizaba la conocida trama de Shakespeare para plasmar su decepción tras su ruptura con la cantante Holly Vincent (de Holly and the Italians), de quien sospechaba que estaba con él por el interés.
Quizá el gusto de Knopfler por la letra impresa venía de sus tiempos de becario en el periódico Evening Chronicle y su licenciatura posterior en Filología Inglesa. Romeo and Juliet estaba incluida en un disco de título no menos poético (Making movies, o Haciendo películas), cuyas canciones "son casi clásicas por naturaleza", declaró su productor, Jimmy Iovine a Rolling Stone.
Zurdo que toca como diestro, y sin púa
Mark Knopfler fue, posiblemente, el único virtuoso de la guitarra de los ochenta que no era un melenudo apóstol del heavy metal. El líder de Dire Straits, que además cantaba, podría haberse ahorrado sus exquisitos solos de guitarra, pero no: acostumbró a su audiencia al placer de escuchar un pasaje de lucimiento, algo que había caído un poco en el olvido fuera de la escena de los aguerridos instrumentistasmetaleros.
El hecho de compaginar la guitarra solista con el micrófono no era (ni es) su única particularidad: zurdo, agarra el instrumento como un diestro, y su desdén por la púa en favor de sus habilidosos dedos otorga a sus solos una incomparable sensibilidad. Para algunos, la mejor muestra de su virtuosismo puede encontrarse en el fabulosocrescendo de cuatro minutos de Sultans of swing, en la versión en directo de su disco Alchemy (1984).
Hermanos que llevan sin hablarse 30 años
Como Oasis, con Liam y Noel Gallagher, Dire Straits tuvo su propia historia de hermanos enfrentados. Mark y el benjamín David (también guitarrista) montaron la banda a mediados de los setenta, pero en 1980, durante la grabación de Making movies en Nueva York, David se fue a por tabaco y no volvió. Causa oficial: diferencias creativas.
Siempre flotó en el ambiente la idea de que David Knopfler se había largado frustrado por el inevitable protagonismo de su hermano, algo que el propio David confirmó a una entrevista al Daily Expresseste mismo año: "Yo estaba construyendo una democracia y Mark, una autocracia. Eso provocó tensión entre nosotros. Pasé mucho tiempo acudiendo a terapia y lidiando con mis fantasmas y demonios", dijo. Desde entonces no se hablan (y ha llovido). ¿Qué pasó con? David ha seguido grabando discos, seguidos por una reducidísima audiencia, y ofreciendo conciertos nostálgicos como los de su actual gira acústica de trigésimo aniversario.
Iconos 'indies' los aman
El grupo de Mark Knopfler tuvo un papel fundamental en el lanzamiento, en 1985, del compact disc. Su compañía discográfica, una división del gigante tecnológico Philips, los eligió para consolidar de una vez por todas este soporte, tras un tímido goteo de títulos desde 1983. La industria necesitaba el empujón de una banda de primerísimo nivel que accediera a vincular el lanzamiento de su nuevo disco con el formato que, se suponía, iba a acabar con el obsoleto vinilo. El disco escogido fue Brothers in arms, uno de los primeros en lucir en su contraportada las célebres siglas DDD (grabación, mezcla y masterización realizadas digitalmente), y como era de esperar, el acuerdo benefició a ambas partes: el CD se implantó definitivamente (tanto el soporte como su reproductor) yBrothers in arms se convirtió en el álbum más vendido del grupo (y el primer CD en superar el millón de copias vendidas).
En España se despacharon 300.000 unidades (y fue solo un 1% de sus ventas mundiales). Un disco mítico reivindicado hasta por uno de los iconos del indie: Stephen Malkmus, quien fuera líder de Pavement, que incluyó estos versos en su canción Jenny and the Ess-dog: "Se besan cuando escuchan Brothers in arms, y si hay algo malo en ello, ellos no parecen ver el daño". Y a ver quién es el hipsterque se atreve a enmendarle la plana a este señor.

En concierto. Mark Knopfler actuó ayer en Lanuza (Huesca), hoy 25 de julio en Hoyos del Espino (Ávila), el 26 en Sevilla, el 29 en Santiago de Compostela y el 31 en Barcelona.
*
Leer más...